I love writing prompts.
My
purse clean out
post last week was a writing prompt.
It came from Tuesday Ten which offers different prompts on Tuesdays.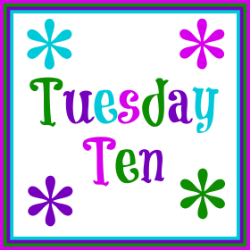 The suggested prompt this week is to write about the top 10 headlines or song titles from the year you were born.
So here goes a combination:
https://search.yahoo.com/search;
_ylt=AlwpVhM0ynhjI3Pg8zLXKbubvZx4?
p=1960s+graphics&toggle=1&cop=mss&ei=
UTF-8&fr=yfp-t-901
1) Neil Armstrong and Edwin Aldrin landed on the moon on July 20 (Ellie's birthday).
--Technically I wasn't born until November (just saying...).
2) Women's equality becomes a major political issue.
--I distinctly remember being in the 1st or 2nd grade and going through the alphabet and the teacher asking for a word from the students for each letter. When she came to 'L' I raised my hand and said, "lib". When she asked me what "lib" meant, I said, "women's lib!"
I bet my girls don't even know what that means.
--The word hippie has always had a negative implication for me. Like in the episode of "The Brady Bunch" when Greg moves his bedroom into Mike's den and replaces the door with beads and starts wearing striped pants with fringed vests and saying "far out, man" to everything and everyone.
Well, frankly, I didn't like Greg anymore.
Woodstock for me seems like a muddy field full of Gregs. And without proper sanitation and hygiene.
4) "Sugar, Sugar" by The Archies was #1 on the
--That is just so fitting for me.
I am taking a self-imposed "break" from my
dear, sweet jelly beans.
[Sigh].
5) The Beatles perform in public for the final time as a group.
6) Led Zeppelin releases their first two albums.
--They were the first band to be considered "hard rock". I guess compared to The Archies, they would.
7) Diana Ross leaves the Supremes.
--I had to just take a moment to sing along to "Listen" from the Dreamgirls soundtrack.
8) The New York Mets win their first World Series led by pitcher Tom Seaver.
--You mean he wasn't always with the Cincinnati Reds??
9) The most popular series on TV include Rowan & Martin's Laugh-In,
Gunsmoke and Bonanza.
--I never really did understand the writing all over your body and the dramatic
"dancing-then-freeze" transitions on Laugh-In.
See hippie explanation above.
10) Sesame Street debuts on television.
--I am the same age as Big Bird?
My takeaways from the events and songs from the year I was born:
•I have never lived a second on this earth wondering
when/if man will ever walk on the moon.
--That was so 4-months ago by the time I came around.
•I certainly have and am enjoying the progress from the
--Unless you count the time spent working for the corporate headquarters of Waffle House.
They certainly haven't gotten/read ANY of the women's lib memos.
But my girls don't even know what that term means.
For that, I am thankful!
•Some music that we still talk about today was brand new.
--I don't think we will be talking about Miley Cyrus or Justin Bieber in 40-some years.
•The big yellow bird and I share a birth year.
--Do you think he has crow's feet?
What happened the year you were born?